sheet music for flute and harp
Carol of the Bells ~ Ukrainian carol, arranged by D.K. and B.A. Fackler ~ $5.00
(harp and violin, viola or flute)
Pedal harp, full size lever harp or 22 string harps (C-c) and violin or viola or flute listen to mp3 of midi file
The original text to this was for the new year celebration. The English words, added later, changed it to a Christmas carol. In the key of A minor, there are pedal and lever changes (marked). Three versions of the harp part are included: pedal harp, 5 octave lever harp and 22 string lever harp (C-c). You'll need levers for F and G.
sample 22 string lever harp page

sample large lever harp page
Nutcracker Ballet Excerpts: Arabian Dance (Coffee) and Spanish Dance (Chocolate) by Tchaikovsky, arranged by D.K. Fackler $10.75
Suitable for LEVER (or pedal) harp or piano and flute/violin. The PDFs arrive in a folder as separate files ready for printing or installation on a iPad or Tablet. (image below for larger view). Also included are alternate parts for cello, clarinet in Bb, or horn in F. These two excerpts are suitable for lever harp.

midi produced sound file here

midi produced sound file here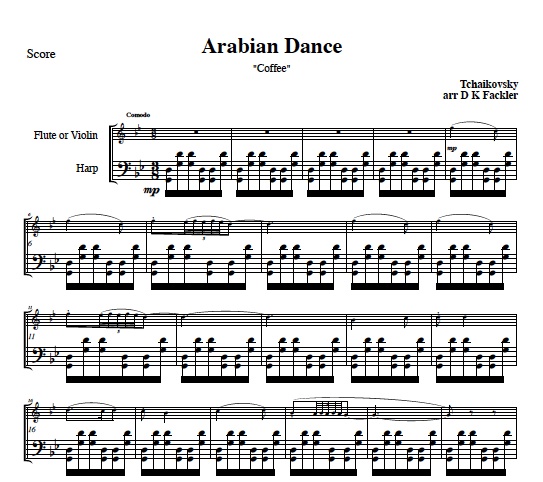 Pas de Deux from the Nutcracker - PEDAL harp and flute or violin
The Pas de Deux is available for flute included with the set for horn in F (alternate parts for clarinet in Bb, flute/violin or cello) as an alternate part. These sets include all three movements from the ballet. Please order from the horn and harp page.
Terpsichore Suite Renaissance dance music arranged by D.K. and B.A. Fackler for lever or pedal harp and B flat clarinet (alternate parts for vioin or flute) $7.00
Five Renaissance dances arranged for pedal or lever harp and horn in F:
I Argreers (The Wedding Night) from Playford's Dancing Master
II La Canarie from Terpsichore, collected by Michael Praetorius
III Pavane, La Belle qui tiens ma vie from Arbeau's Orchesographie (harp solo)
IV Springtanz from Arbeau's Orchesographie
V Spagnoletta from Terpsichore, collected by Michael Praetorius


suitable for lever or pedal harp or piano and violin or flute or B flat clarinet
includes 2 full scores (lever and pedal harp), clarinet in Bb and violin/flute parts
delivered in a folder, ready for printing or iPad use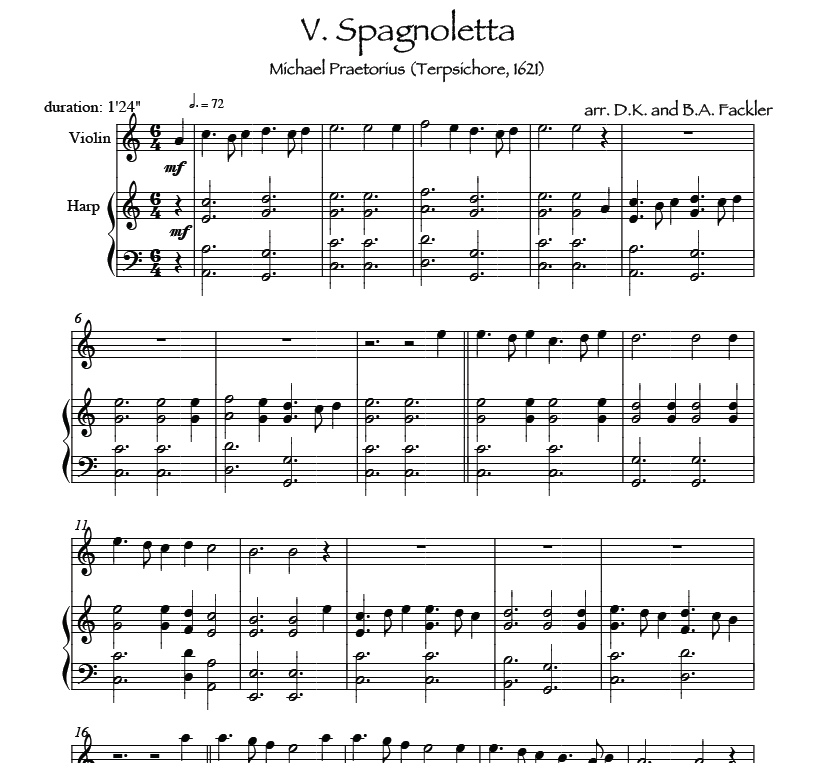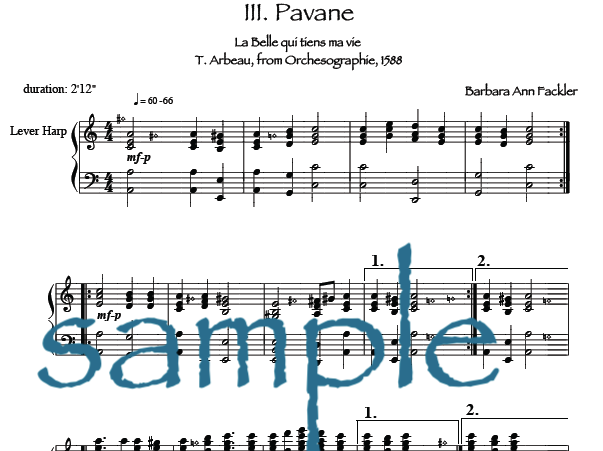 The Sacred Lever Harp and supplemental parts
The Sacred Lever Harp collection of 15 hymns began as a project for solo lever harp. With the addition of treble and bass clef parts, these become trios, well suited to harp, flute and cello. Flexible in use, either or both instrumental parts may be added to the solo, for use as duets or trios. Ordering information and samples are available at The Sacred Lever Harp page.

If you already own a print copy of The Sacred Lever Harp, the supplemental parts may be purchased separately. Well suited for pedal harp or lever harp, adaptable easily for piano.
bass clef supplemental parts to add to solos
bass clef supplemental parts to add to solos
bass clef supplemental parts to add to Wondrous Love ~ cello, bassoon, bass
treble clef supplemental parts to add to Wondrous Love harp solo ~ violin, flute, oboe