Handel, Handel, Handel
a collection of the music of Handel for lever harp and pedal harps
Short and Sweet Volume VII: Handel, Handel, Handel $6.50
This sheet music collection for harp solo includes nine arrangements of music from Handel's Water Music, The Messiah, Rinaldo, Solomon and the beginning, most recognizable part of the harp concerto. All titles include a version for pedal harp, full size lever harp and small lever harps. See specific list below. Keys of C, F, G, D, B flat, and E flat. 51 pages including cover art with a bookmarks in the PDF to making printing only what you need easy. Template for your personalised table of contents is shown to the right. Pedals and lever changes are marked. Some fingerings included and a few include chord changes (listed below).

intermediate level, click here see table of contents

NEWLY ADDED: Handel Concerto in a lever free, pedal free version for 5 octave lever harps or small pedal harps for those not ready for accidentals.

CORRECTED: the last measure in the Handel Aria should have a dotted half note. In early versions, this was incorrectly notated as a half note (one beat short). (January 2012)


Water Music: Allegro Moderato, Loure, Entree (includes chord changes) (D Suite) Listen: Entree midi generated file

Rinaldo: Aria LISTEN: midi generated sample

Harp Concerto (includes lever free versions for small harps and pedal harp) listen: mp3 of midi file for the pedal harp version

Messiah: I Know My Redeemer Lives (with chord changes)

Pastoral Symphony and He Shall Feed His Flocks

Solomon: Queen of Sheba (with chord changes) LISTEN: midi generated sample

Save one(Allegro Moderato), all include an arrangement for harps as small as 26 strings. Six fit harps as small as 22 strings (Aria, Concerto, I Know My Redeemer, Loure, Pastoral Symphony and Queen of Sheba).

Arrangements assume tuning in E flat.

The PDF includes a table of contents in the form of "bookmarks". Click the bookmarks tab and you can navigate through the collection and print only the pages you need at the time. Each arrangement is in the original key where possible. The images below offer samples from some, but not all the arrangements.

Entree from Water Music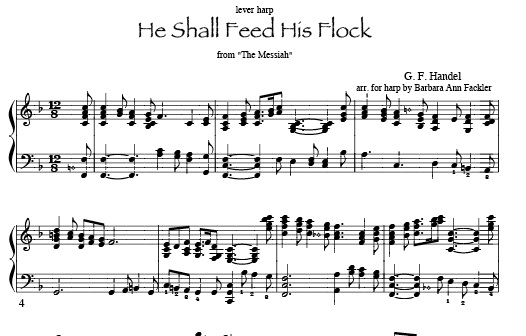 He Shall Feed His Flock
Aria from Rinaldo: intermediate lever or pedal harp solo
Allegro from the Water Music for lever or pedal harp

<!-second row-->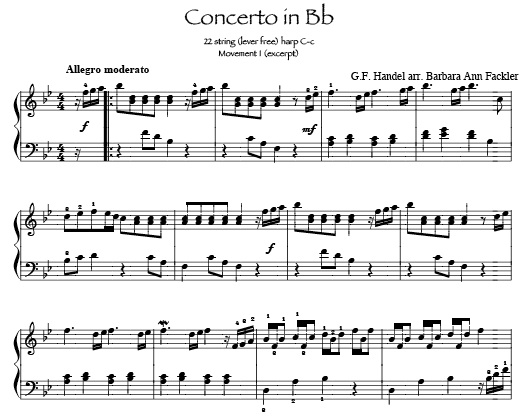 Handel's Harp Concerto for lever harp or pedal harp (excerpt)
Loure from Water Music ~ lever or pedal harp sheet music
Handel collection of sheet music for intermediate harp solo

<!-third row-->
Pastorale from the Messiah for lever harp or pedal harp (excerpt)
Entrance of the Queen of Sheba for lever harp (excerpt)
Entrance of the Queen of Sheba for pedal harp (excerpt)