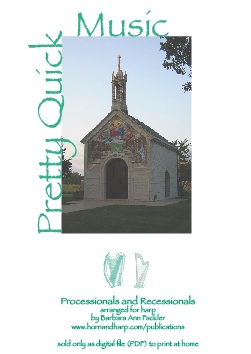 Wedding Processionals and Recessionals for Harp
Short and Sweet Volume IV: Wedding Processionals and Recessionals $6.00
Seven processionals or recessionals for weddings, each with a version for pedal harp and for lever harp Jubilation (Fackler), Trumpet Tune (Purcell), Andante Largo from Voluntaries, Set II (John Stanley), Trumpet March (Clarke), March Napolitaine (Bochsa), Jupiter (Holst) and Pavane (Wachs). Often brides want something that's a little bit different from what they think everyone else uses. These seven pieces offer just that kind of option. 44 pages including cover art.
Jubilation by Barbara Ann Fackler
listen to a sample played on a 27 string harp YouTube
This festive piece composed for harp by a harpist may be used as a wedding processional, recessional or as a solo. Offered in two keys, D and G (and two versions) to fit pedal harp and all small harps and to allow pairing with commonly requested pieces used in wedding processionals. It begins with a fanfare introduction followed by three themes offering plenty of material for a lengthy processional or filling time.

No accidentals, but requires facility with octaves, fifths and sixths. Version I (less complex LH) is easier than Version II, both work with the optional obligato. Over 2 minutes long played as written, adaptable to different lengths by altering which repeats to take.

To get free sheet music for the (optional) violin or flute obligato for Jubilation, visit Gail Salvatori's website.
Trumpet Tune by Henry Purcell
This very popular piece works easily for pedal harp or small lever harps. Played in the original key of D, it's easy to add trumpet or horn. Two versions are included, one with levers marked and one without levers marked. Some fingerings are included. Click image for larger view.
Andante Largo, from Voluntaries Set II, No. 6 by John Stanley
This arrangement is available only for pedal harp and lever harp with levers on F, C and G. It's in the original key(D major) and works easily with trumpet, horn, violin or flute on the melody. Brass players know this already in the original key. It's not as fast as some of the others that are traditionally used making it a stately, elegant entrance. Click image above for larger view. LISTEN: (midi generated mp3)
Trumpet March by Jeremiah Clarke
Offered in the original key of D and in the key of C, this is a sweet little march with no accidentals making it easy for all harps. The key of D works for harps C-c and key of C for harps G-g. Click image above for larger view. LISTEN (midi generated mp3)
March Napolitaine by Robert Nicolas Charles Bochsa
It's always nice to offer music written for harp by a harpist and here's another piece that fits that category, composed by the court harpist to Napoliane Bonaparte. This is offered only in its original key of C with separate parts for pedal harp, 5 octave lever harp and edited carefully for 22 string lever harp (C-c).
Jupiter from the Planets
Gustav Holst's theme from Jupiter was adapted by Holst as the hymn tune Thaxted, commonly associate with "I Vow to Thee, My Country", Princess Diana's favorite hymn. This arrangement includes a version in E flat (original key for the Jupiter) and C (original key for the hymn) for three size harps: pedal harp, full size lever harp and small harps of 22 strings and a part for violin or flute. Click the images for larger views of the samples. This is also included in the Processional collection, Short and Sweet Volume IV. Click images for larger views. LISTEN: (midi generated mp3)