lead sheets for lever harp and pedal harp
Sheet music for use in therapeutic settings, weddings, background music, themed programs and more.
Each collection includes separate versions for pedal and lever harp(with lever changes for melody notes only).
All SHORT CUTS music is set on one or two pages.
No page turns.
Multiple keys are included for ease of coordinating music for wedding processionals. Print only what you need. Music is delivered as an email attachment.
Please be patient waiting for your order to arrive.
It's not an automatic download.
collections offered:
Baroque
Double Duty - music that serves more than one function (pop and classical for example)
Harpsichore, Renaissance dances
American music
All Around the World - sounds of homelands across the globe
Christmas carols for an adjustable length solo
All Around the World ($15.00)
a collection of melodies uniquely familiar to specific countries or parts of the world.
Just as certain foods can be the comforting "taste" of a culture, music can be its comforting "sound". Adding a sprinkling of music from around the world to your repertoire will offer unexpected moments of delight to those listening. For those who play in a therapeutic music setting, a familiar folk song can bring a sense of nostalgia to a person in pain or discomfort.

Decades of playing steady engagements in Chicago proved over and over that hearing music from one's homeland offers great comfort to those who have moved to a new culture. Whether the move is to another part of our country, or another part of the world, regional and local music is a big part of what makes our native land feel like home.

This collection was created with lever harpists in mind, but can be useful to a wide variety of other instrumentalists. Lever harp friendly keys have been chosen with lever presets and lever changes indicated in most of the selections. There's a longer description here.
sample download of the folk song from EGYPT, click here
sample download of the folk song from INDONESIA, click here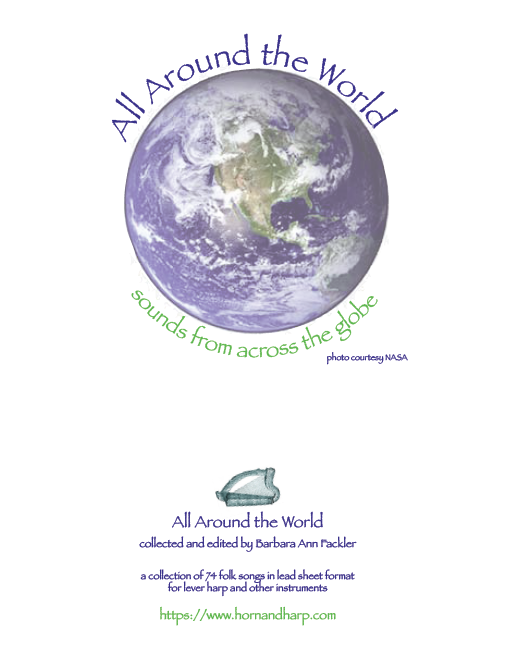 America's Sung Heritage ($15.00)
More than 50 distinctly American songs are included in this set of lead sheets. While a few are recommended only for pedal harp, most work for lever harps and editing includes suggestions for lever changes and options for keys that account for 22 string harps. This is more than enough music for the kind of themed programs nursing homes enjoy and you'll be glad to have it around the Fourth of July and Memorial Day. Most of the requests you'll get are included. When helpful separate parts are provided for pedal and lever harps. More info here. 127 pages of music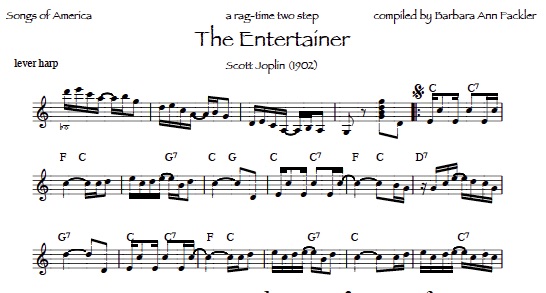 Baroque Collection ($10.00)
Bach: Sheep May Safely Graze (D, G and C)
Bach: Brandenburg Concerto No. 1 in F, Minuet (F and G)
Bach: Brandenburg Concerto No. 1 in F, Allegro (third movement) (D, G and F)
Bach: Jesu, Joy of Man's Desiring (G, C and D)
Handel: Hornpipe from the Water Music (D and C)
Handel: La Rejouissance from the Royal Fireworks Music (D and C)
Purcell: Chaconne from The Fairy Queen (original key only, one lever preset: C)
Telemann: Napolitaine (F, G, D and C)
Vivaldi: Autumn from Seasons (Allegretto in Eb, D and C)
Vivaldi: Autumn from Seasons (Allegro in F and G)
Vivaldi: Spring from the Seasons (1st movement) (D, F, G, and C)
Vivaldi: Spring from the Seasons (3rd movement) (D, F, G, and C)
Download a free sample, Vivaldi Spring, movements 1 and 3 in the key of D. Click here.

Multiple keys of each title are included to make pairing music for wedding processionals easier for lever harps and to fit small harps without full levers. Click image to the right for a large view of the table of contents. 40 pages including cover art
Harpsichore Collection ($8.00)
Harpisichore is a collection of dance tunes collected by Playford(Dancing Master), Susato(Danserye), Praetorius(Terpsichore) and Arbeau(Orchesographie) from the Renaissance era. This set includes 60 tunes suitable for lever and pedal harps. Lever presets and changes are given, pedalings are not. Key signatures of C, D, F, and G are used. Only nine require lever shifts within the piece. These are the perfect addition to any repertoire and work particularly well on small harps of 22 strings used for therapeutic work. file size: 656 KB

Try the English tunes at the bottom of this page, an immediate download, to try some of these tunes.
Listen one of the included tunes, The Wedding Night.
Angelic Proclamations - an adjustable length medley for the Christmas Season ($12.00)
More often than not I'm asked to provide a prelude of unspecified length for an Advent or Christmas eve service. This medley of carols, all of which have to do with Angelic Proclamations is my solution to the problem of what to list in the program. These carols combined in lead sheet format complete with introduction and interludes will fill just about any amount of time needed. Played as notated, taking each repeat only once, the collection of Angelic carols will give you about 10 minutes of music. By repeating some carols fewer or more times, you can alter the length to suit the moment. Lever changes are marked, pedals are not.
Lever changes are indicated, pedal changes are not.

Three versions:
pedal harp: 8 pages, 12 carols
lever harp: 8 pages, 11 carols (requires two sharps and optional B flat) (22 strings C-c, easily adapted for G-g)
lever free harp: 7 pages, 10 carols (key of C)
Free Short Cuts for immediate download
Two Irish Tunes: She Moved Through the Fair and Sweet Carnloch Bay, as published in The Folk Harp Journal, 2012.
Cwm Rhondda: This hymn was sung for Prince William and Kate Middleton's wedding ceremony on April 20, 2011.
English Tunes Lord Willoughby, Putney Ferry, Greensleeves and Windsor Terrace in lead sheet format. All work for small harps. This set in a minor.
English Tunes Lord Willoughby, Putney Ferry, Greensleeves and Windsor Terrace in lead sheet format. All work for small harps. This set in e minor.
Two Carolan Tunes Bridget Cruise(2nd melody) and Fanny Power in lead sheet format.