An article (April, 2009) in Naperville Magazine in Illinois entitled The Perfect Reception by Megan Downey mentions harpist Barbara Ann's music.
click here to listen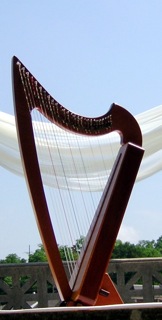 references listed below resumes




Barbara Ann Fackler, Akron Ohio harpist (formerly of Chicago)

Freelance harpist since 1978, playing for weddings, parties, open houses, orchestras, recitalist, and accompanist.

Most recent steady engagements at Chestnut Square at the Glen(2005-2013) and Mather Place of Wilmette(2000-2013).

Adjunct faculty, Concordia University Chicago. 2008 - 2013

Member of ASCAP

Past steady engagements include the Knickerbocker Hotel(Chicago), Palmer House(Chicago), Regis Club(Lombard), Marriott Lincolnshire(1980-2003) and Hotel Baker(St. Charles).

Tour with Woody Herman and the Thundering Herd, Oct. 1986; accompanist for Richard Stoltzman (clarinet) and band member.

Soloist with many Illinois orchestras, including Dupage Symphony, Waukegan Symphony Orchestra, Northwest Suburban Youth Symphony, and University of Chicago Chamber Orchestra performing concerti by Debussy, Ravel, Mozart and Ginastera.

Served as principal harpist with the Elgin Symphony under Margaret Hillis, and with Elmhurst Symphony, New Philharmonic, Chicago Civic Orchestra, University of Chicago Symphony Orchestra, and Dupage Symphony.

Featured soloist and principal harp with the International Congress of Musicians, France (1977)

Wide range of repertoire, extending from classic to popular, including old standards, jazz, show tunes, current favorites, ethnic and sacred music.

Concert pedal harp, Celtic harp, and Renaissance harp available.

Amplification available for large parties.

Requests always welcome.

Recording credits




Daniel Fackler, Horn

, Akron, Ohio (formerly of Chicago)

Daniel Fackler has been an active performer throughout the Chicago area. He has appeared as soloist, having performed works by Bach, Britten, Cherubini, Mozart, Saint-Saëns, Schumann, Strauss, Howard Whitaker and Vivaldi. In 1986 Mr. Fackler was hornist of Woody Herman's Thundering Herd, participating in the group's Silver Anniversary Tour. He has performed with the Moody Blues, Pepe Romero, Peter Nero, Victor Borge, Richard Stoltzman, Luciano Pavarotti, Judy Collins, Roger Daltrey, the Canadian Brass, Andy Williams, Nancy Wilson and Rich Little. He has been featured soloist on concert tours throughout Germany, Poland, Czech Republic and Hungary as well as throughout the United States.

Mr. Fackler holds a Bachelor of Music Education from the Wheaton College Conservatory, listing Dale Clevenger, Verne Reynolds, Melanie Cottle and Norman Schweikert among his principal teachers. He is an alumnus of the Chicago Civic Orchestra, former principal horn of the Elgin Symphony, Elmhurst Symphony, New Philharmonic Orchestra, Woodstock Mozart Festival and Illinois Chamber Symphony. He is an accomplished orchestrator and arranger of brass and chamber music and has participated in recordings made by the Chicago Chamber Orchestra, Elgin Symphony, Millar Brass Ensemble and radio/television commercials. Additionally, Dan held adjunct faculty positions at Concordia University and Moody Bible Institute. He is a member of ASCAP and relocated to Ohio in spring of 2013.

Recording credits





References
Please feel to contact any of these references.
 Christopher Barton
Community Bank
100 N. Wheaton Ave.
Wheaton, IL 60187
630.933.0900