Be Thou My Vision (Slane)




This Irish hymn tune is popular in many churches. This set of arrangements lets you grow into the advanced version (2'30") by offering 6 different versions for pedal and lever harps (5 octave to as smalll as 22 strings.) LH octaves, 3 note chords in RH (for the most part) in the intermediate versions, less to do in the Skill Building versions. Click photo to the left to see table of contents of this collection.
more info
11 pages including cover art
Carol of the Bells



Pedal changes marked, two preset levers (F# and G# below middle C): separate parts for pedal harp, lever harp, 22 string harp (C-c).
Faronell's Ground


LISTEN: midi generated mp
This lovely dance tune from Playford's Dancing Master collection offers a gentle, soothing ground upon which variations are built. The pedal harp version includes pedal changes and there are two lever harp versions, one in the original key(only one C# needed) for harps 22 strings or larger (C-c) and one that's been transposed for 22 string harps G-g(F# and one G# needed). Chord changes are also included. If you like the Pachelbel Canon in D, you'll like this as well. There is a lever preset but no lever changes within.
zip archive
156 KB




Flower Duet Song from Lakme (Delibes)



The

Flower Duet Song

began its life as part of opera and is still a favorite of opera fans. It gained wider popularity when Yanni based his "Aria" on which was performed as part of his

Live At The Acropolis

concert, widely broadcast on PBS.
It's been used in British Airways and Ghiradrdelli commercials, several movies and has been recorded by Charlotte Church and has been popular at weddings in the last few years.
Click photo to the left to see table of contents of this collection.
listen here see a sample more info zip archive 288 KB


Handel, G. F.
Hosanna, Loud Hosanna (Ellacombe)


One of my

Beginning in the Middle

students performed this at her church after just a year of lessons! Beginning and ending with glissandi, this is a perfect choice for Palm Sunday. If you can place four notes in a row and find thirds predictably, you should have no problems learning this. In the key of C, about three minutes long and suitable for three octave harp, C-c or G-c. This works for any harp and doesn't feel like a "beginner" piece of music and is long enough for use as offertory or prelude. Fingerings are included. 2 pages
zip archive
72 KB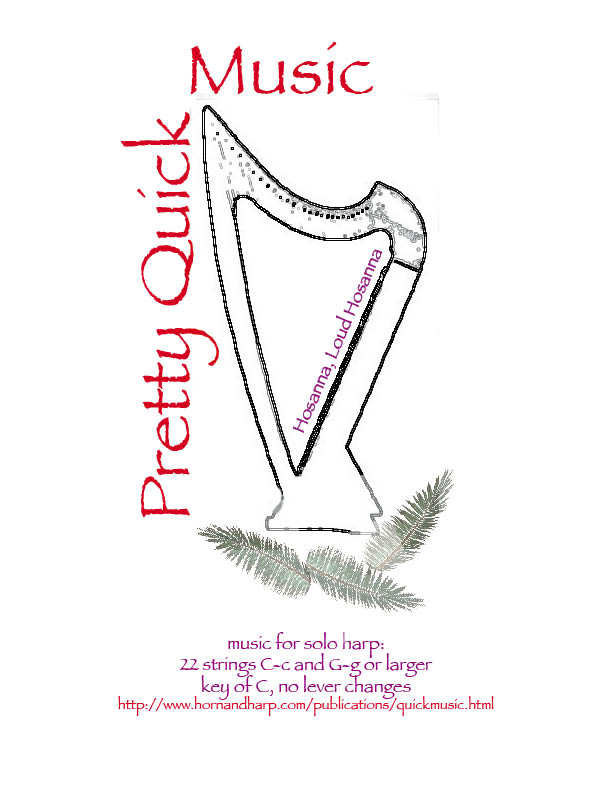 How Can I Keep From Singing



How Can I Keep From Singing has had an interesting evolution, beginning as a hymn tune. This haunting melody from the 1860 (Robert Wadsworth Lowry), can be found in two different meters, both included in my arrangement. Eva Cassidy, Enya, Judy Collins, and Bruce Springsteen have also recorded this song. Sold as two separate PDFs for use on tablets or iPads, the pedal harp version is what you'll hear on Pleasantries & Diversions. The lever harp version offers the same variations with no key changes, set in the key of C to accomodate any tuning you may choose. listen to How Can I Keep From Singing

Pedals are marked.
Not suitable for small lever harps.
You'll need proficiency in LH harmonics.


Intermezzo from Cavalleria Rusticana



sample
listen: mp3 of midi file
This transcription of the lovely Intermezzo from Mascagni's opera

Cavalleria Rusticana

may be played on lever or pedal harp. One page in length and sure to please anyone requesting something from opera. Included are three versions: one for pedal or 5 octave lever harp, one for 22 strings, C-c and one for 22 strings, G-g.
zip archive
120 KB
Jesus Loves Me (from The Sacred Lever Harp)



This is included in The Sacred Lever Harp which is now ONLY available
only
from Vanderbilt Music. Key of C, 2 pages. A few four note chords, requires facility with three note triads and has made a good piece for mastering these chord shapes. No accidentals, fits most small harps. Recorded by harpist Susan Morehouse.
Jupiter from the Planets


Gustav Holst's theme from Jupiter was adapted by Holst as the hymn tune Thaxted, commonly associate with "I Vow to Thee, My Country", Princess Diana's favorite hymn. This arrangement includes a version in E flat (original key for the Jupiter) and C (original key for the hymn) for three size harps: pedal harp, full size lever harp and small harps of 22 strings and a part for violin or flute. Also included is a lead sheet in the key of C and the cover art.
This is also included in the
Processional collection, Short and Sweet Volume IV
. If there are other titles in this collection you want, you'll save money by purchasing the bigger collection.



Let All Mortal Flesh Keep Silent


suitable for pedal harp, separate part not necessary
listen to a short sample (mp3)
This is used by many churches during Advent and in the Lutheran church as a communion hymn. more info

Morning Song from Peer Gynt (Grieg)



Grieg's gentle Morning Song adapts easily for pedal or lever harp. This set of arrangements includes pedal and lever changes and multiple keys, including a lever free version. There are six versions included: pedal harp, 5 octave lever harp, 22 strings C-c with lever changes, 22 strings G-g with lever changes and 22 strings C-c lever free and 22 strings G-g lever free (ten pages of sheet music). Hear the pedal harp arrangement in this YouTube video.
Click image to right for large view of table of contents and sample of music.




Mos Craciun: Romanian Santa Claus Song

listen: performed on a 27 string harp
As published in the Folk Harp Journal, 2011, this is offered as a

free download

. This
intermediate verision
suits nearly every harp, including 22 string, C-c as does the simplified version (one verse only). For other seasonal music, see Short and Sweet Volume V.
Ode to Joy (Beethoven)



This is a skill builder arrangement for lever or pedal harp. Three versions, each building on skills acquired in the previous leaves new harpists with a many options for performance. This theme from Beethoven's Ninth Symphony is a favorite at weddings and in church as well as for background music. Version A begins with both hands playing the melody in octaves, with the second time through giving the LH thirds to harmonize. The third variation puts the melody back in the LH giving thirds, fourths and fifths to the RH. Version B adds RH 6ths and LH octaves. Version C adds harmonics and broken chords. There's also a "build your own variations" version that prints each version on its own page so that you can choose which to include and what order in which to play them. This very versatile set is offered in two keys to allow harps as small as 22 strings, C-c or G-g to use this arrangement. My Beginning in the Middle students often start with this as their first piece and find the Build Your Own Variations handy for wedding recessionals and processionals.


Gretl, my oldest Beginning in the Middle (actually she was Beginning in the Sunset, nearly 80 years old!) student started lessons in January of 2009 and played the "A" version of this for her grandson's wedding in July of 2009. The bride came to a lesson to hear it and liked it so much she moved it from prelude music to the unity candle music. Gretl did a great job in a short amount of time. It had been 60 years since her last music lessons and she remembered everything well. You're never too old for a new skill.
Click photo to the left to see table of contents of this collection.
zip archive
576 KB
Listen to the "B" version: midi file sample
St. Columba (Irish)




This Irish hymn tune, popular in many churches, is most commonly known as "The King of Love, My Shepherd Is (Psalm 23) or "Breathe On Me, Breath of God (used on Pentecost and at baptisms). This hymn was used at Princess Diana's funeral. You'll need to be comfortable with 6ths, 5ths and LH octaves. The last verse has LH harmonics that are optional. The set includes: pedal harp, 5 octave lever harp (with full levers), 22 string harps, C-c and G-g as well as two for 26 string harps: one for harps tuned in Eb with full levers and another for harps tuned in C with levers only on F. Cover art is included. 17 pages, one version includes suggested fingerings and one of the texts associated with the tune. Recommended for Beginning in the Middle students. One version works on a Harpsicle tuned in C, another playable on a Sharpsicle. Save the rest for your next (bigger) harp. This is long enough for use as prelude or offertory.
sample page


Savior, Like a Shepherd Lead Us

listen to a recording of the harp duo version
Mastery of thirds and root position triads are needed to successfully learn this arrangement of a well known hymn by William Bradbury. If you've worked through the free etudes "Triads in Root Position", you're probably ready for this. Several of my Beginning in the Middle students have learned and performed this in their first year of study. Two versions are included, one in the key of D (fits 3 octave harps G-g) and the key of C for those lacking levers. Approximately 3 minutes long.sample page zip archive 100 KB
Silent Night, Holy Night



Listen:
advanced version(sampled harp): mp3

Listen: easy version(sampled harp: mp3

Includes thee versions: one with very few intervals larger than a third, another that requires mastery of sixths as well (each with two "verse" and an advanced version of three "verses". Students may learn the easier version (or the first page of that version) the first year and add a more difficult version the next. Most of my students keep these in their repertoire for years adding variations as they progress. Notice that the RH of the advanced version is virtually the same as the RH of the earlier version, just moved up an octave. Learning the more advanced version doesn't mean everything is new. Because you'll already know some of it, learning the adanced version is much easier than starting over with a brand new arrangement.

Offered in the key of C so that many other versions, like the one in Sylvia Woods' book, may be paired with this to create a longer solo or used with a harp circle. Each version is also offered in the key of B flat to match the key commonly used in hymnals, allowing the harp to accompany congregational singing. The advanced version includes changes and there is a lead sheet of the advanced version (in both keys) included as well.
Click photo to the left to see table of contents of this collection.
zip archive 444 KB




This is My Father's World (Terra Beata S.M.D.)




Offered with several versions, including Skilling Building through advanced
7 printable versions in all, 17 pages including cover art. more detailed info zip archive 432 kb


Three Christmas Lullabies
(
free downloadable
harp sheet music)


New in 2017: a version of Three Christmas Lullabies for small harps, with a range that fits harps with bottom note of C. click here to download the small harp version
Arranged as part of a tutorial in reading lead sheets for
Great Lakes Harpers
, the local chapter of the
International Society of Folk Harpers and Craftsmen
, this sheet music for harp solo is available for free, immediate
download
. It was also published in the Winter 2009 issue of the Folk Harp Journal. No fingerings included, no lever changes. A harp duo arrangement is also available. We recommend these files be downloaded to your computer for printing instead of printing from the browser window.
Three Variants on Kingsfold




listen
Included are four versions of this setting by Barbara Ann Fackler: pedal harp (as recorded on Pleasantries & Diversions), lever harp (same keys as the pedal version with lever changes indicated), alternate version for lever harp tuned in C and a version for small harps with no lever changes needed for a skill building option.
To God Be the Glory


This great hymn of 1875 by William H. Doane and Robert Lowry has no pedal or lever changes. The three page arrangement is offered in the key of C to accommodate 26 string harps (C-g)with no lever and the key of G for 26 strings (G-d) with levers. Suitable for pedal harps as well. 6 pages of printable music, no fingerings. chord changes in key of G only, no cover art. Placed on a music stand three across, there are no page turns.
We Three Kings



Many of my

Beginning in the Middle

students learn and perform the easiest version of this in time for Christmas after 5 - 7 months of lessons. The next year they learn the longer version, doubling the length of their solo piece of repertoire. This is a set of three different versions, very beginning (one page) with only single notes and thirds, right hand and left hand playing the same thing an octave apart, a skill building version and an intermediate version. The beginning intermediate version (offered in two layouts: three pages or two pages) uses thirds and three note chords in the RH, mostly single notes in the LH. There are optional LH harmonics and broken three note chords in the accompaniment based upon common shapes to harpists. The intermediate version includes a setting for 22 string harps that does not go below the C at the bottom of the bass clef staff. By request, this is now available in three keys: key of e minor (one sharp), key of a minor (all natural) and key of c minor (3 flats). suitable for 22 string harps C-c or G-g. The harp ensemble version is based on this solo version.
Click photo to the left to see table of contents of this collection.
zip archive 448 KB
sample(JPG)
listen to a sample: mp3
When Johnny Comes Marching Home Again



(beginning intermediate)
Offered in several versions to suit pedal harp and lever harps, this early American tune has been around since 1863. It is so well associated with American sentiment that Morton Gould used it in his symphonic work, "American Salute"(1943). It can be heard in the film scores of "Gone with the Wind", "Doctor Strangelove", "Stalag 17" and "Die Hard with a Vengence". It is a song of hope and optimism and most people recognize it. This arrangment includes a separate edition for pedal harp with pedalings marked and three versions for lever harps for 22 string harps (C-c and G-g) as well as different preferences for tuning (C tuning and Eb tuning). Lever changes are clearly marked. No page turns, each arrangement is two pages in length. Click on the sheet music image to the right for a larger view of a sample. Included are the keys of Dm (one flat), Em (one sharp) and Am (all natural).
zip archive 232 KB listen to a sample mp3